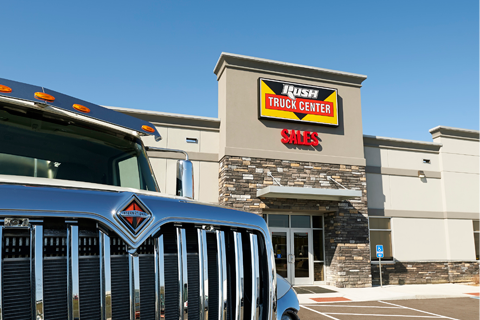 Rush Truck Centers in Missouri


Company Spotlight
WHEN IT COMES TO TRUCKS, NO ONE OFFERS YOU MORE.
Now offering more solutions in Missouri.
Make Rush Truck Centers your first call for all truck purchases, truck parts and service solutions. We look forward to extending our passion for service excellence throughout the state of Missouri.
Our customers demand the best, so we provide the best - from the solutions we offer to the industry-leading brands we represent. At Rush Truck Centers, we approach service differently. Our goal is to increase your uptime and lower your operating costs. Our stat-of-the-art full service dealerships are staffed by highly trained, ASE-certified technicians and equipped with everything to keep you up and running. And with more than $200 million in parts and accessories inventory, chances are we'll have the party you need when you need it. Whether you're looking for vehicle integration engineering and installation, mobile service and technicians, complete outsources shop management, alternative fuel systems and service, real-time vehicle repair status, telematics, value-driven replacement part options, ready to roll inventory or just plain advise, we're committed to being your complete solution provider. And if we don't offer the solution you need today, just ask and we'll do everything we can to offer it tomorrow.
RUSH TRUCK CENTERS IN MISSOURI.
Cape Girardeau l 573-334-5221
Joplin l 417-781-2766
Kansas City l 816-455-1833
Sedalia l 660-827-3735
Springfield l 417-869-1551
St. Joseph l 816-233-5688
St. Louis l 314-449-7200
St. Peters l 636-385-7100
West Plains l 417-256-2155
To Top