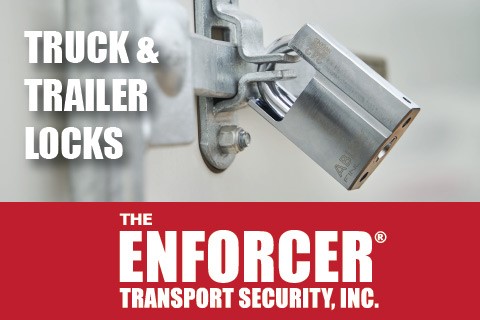 Company Description
Transport Security, Inc. has been the chosen partner of cargo security professionals for over 40 years. We provide high security locks to the trucking, supply chain, portable storage, construction and retail sectors. The ENFORCER® security products for trucks, trailers and containers are designed for the rugged supply chain environment and manufactured from high quality materials.

The ENFORCER® product line includes ABLOY® high security padlocks. Most of our security devices incorporate an ABLOY® cylinder or padlock. ABLOY lock cylinders are designed with rotating discs, like the tumblers in a bank safe, instead of the traditional springs and pins. This type of construction allows for reliable function in extreme environments as well as various master keying systems. Keying systems range from individual keying to master systems that cover large and extensive fleets.

Trailer protection products include the Adjustable Rear Door Lock, Roll Up Door Lock, Trailer Lock Box, King Pin Lock, Back Door Trailer Hasp, C-TPAT Compliant Security Seals, Seal Guard Lock and more. Truck security devices such as the Air Cuff® Lock and the Steering Lock are also available.

In addition, we offer covert embedded cargo tracking technology that can track assets through the supply chain and assist in recovery in the event of a cargo theft along with a variety of covert truck and trailer GPS technologies to fit your fleet's security needs.
Categories
Cargo Seals

GPS Tracking Devices

King Pin Locks

Tractor Security Locks

Trailers

Trailer Tracking
Truck / Trailer Security Locks

Trucks / Trucking

Trucks / Trailer Security Locks
To Top