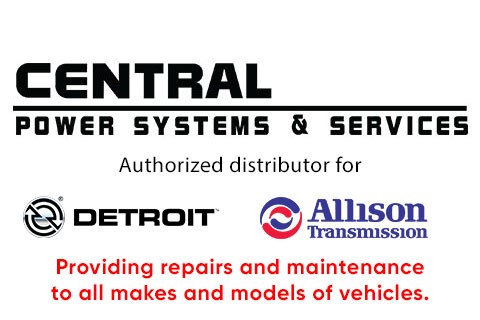 Central Power Systems & Services
Company Description
Central Power Systems & Services is your authorized distributor for Allison Transmission, Detroit Diesel engines and All Makes genuine truck parts for complete vehicle repairs across Missouri, Kansas and northern Oklahoma.
We have been serving the commercial truck, emergency vehicle, coach, school, transit and refuse markets through our parts & service network of branches and field service vehicles since 1954. Our facilities are fully equipped with all the latest tooling, diagnostics and shop equipment to efficiently and expertly address any repair to any make or model of vehicle, engine or transmission.
We employ over 140 technicians and 70 parts personnel, all factory trained and highly specialized to ensure each vehicle is repaired or maintained in the most cost effective and efficient manor, in our workshops, in the field or in your own facilities. We are there to help.
Categories
Air Conditioning / Refrigeration

Air Conditioning / Refrigeration

Brakes / Clutches

Electrical

Engines

Engine Cooling
Engine Tuning
Mfg. / Distribution
Performance Products
Sales & Service

Power Train Equipment

Remanufactured Products

Services

DPF
Roadside Assistance
Services

Trailers

Landing Gear
Parts & Equipment
Trailer Axles

Trucks / Trucking

Dealers & Service
Parts & Equipment
Repair
Truck Stops / Service
Wheel End
To Top